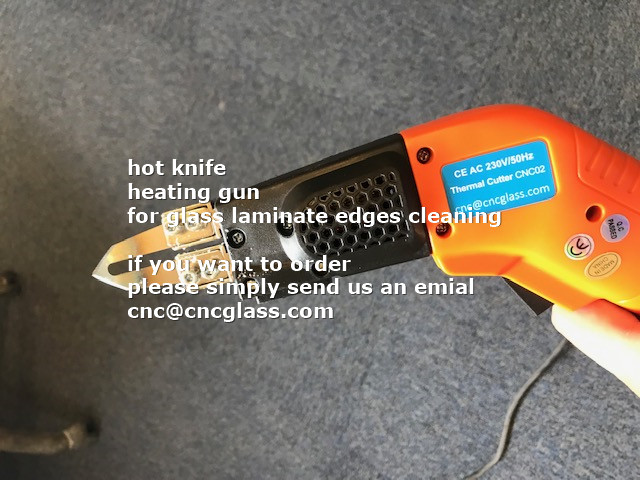 SafetyGlassPlus SGP ionoplast interlayer
Peter Lin, cnc@cncGlass.com,
cnc@cncEVA.com
Whatsapp: 0086 15013829504,
WeChat: WeCan365
www.cncGlass.com www.cncEVA.com
The SGP(SafetyGlass Plus) interlayer is an important factor in ensuring our toughened laminated glass is the best it can be. It's doesn't just make it tougher and stronger, it makes our glass blast resistant – but without compromising on the appearance.
The CNC SGP ionoplast interlayer made by us in China, is like DuPont Sentry Glass Plus (SGP), which is composed of a tough plastic interlayer composite that is laminated between two layers of tempered glass. It extends the performance of laminated glass beyond current technologies as the interlayer offers five times the tear strength and 100 times the rigidity of the more conventional PVB interlayer.
What makes the SGP interlayer so special?
Greater security from threats such as severe weather
Can withstand bomb blast performance requirements
Greater durability in elevated temperatures
Fragment retention
The SGP interlayer ensures glass is strong, tough and durable making it extremely suited to today's architectural needs.
Whether it's for a glass walkway or a laminate bend, the SGP interlayer ensures our toughened laminated glass is as tough as it can be. Do you need samples of SGP interlayer made in China to test, please feel free to contact us.
Blue silicone membrane, silicone blanket,
Silicone rubber, silicone sheet,silicone foils
For laminated glass glazing vacuuming
Peter Lin, cnc@cncGlass.com,
cnc@cncEVA.com
Whatsapp: 0086 15013829504,
WeChat: WeCan365
www.cncglass.com www.cnceva.com
Silicone rubber sheet for glass industry is a key component of our company dedicated to supporting the glass vacuum laminated furnace according to market demand.
Laminated glass vacuum furnace uses vacuum principle, make the glass heated under vacuum conditions, with the atmospheric pressure, let the glass in the vacuum bag pressed to exclude air and unable to make bubbles, vacuum bag is under heating and vacuum pumped conditions to make two or more pieces of glass and EVA hot together.
Vacuum bag is a core part of glass vacuum laminated furnace, it makes up of two pieces of silicone rubber sheet and silicone sealing edge, silicone rubber sheet is a key component of the entire laminated furnace, its quality directly affects the quality of glass products.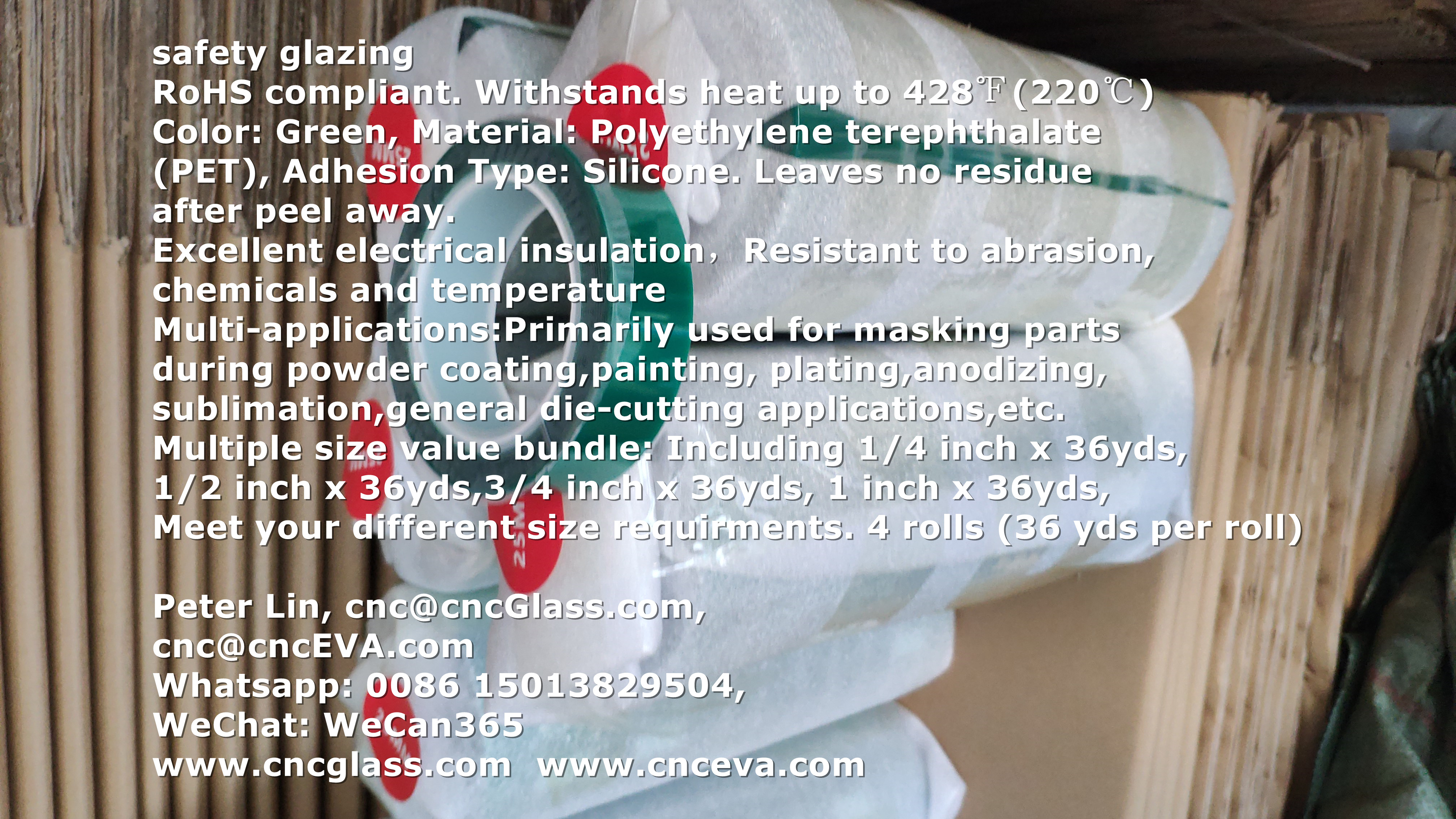 Multi Size Choices Polyester High Temperature
Green Powder Coating Masking PET Tape, Ideal
for SentryGlas Plus interlayer (SGP)laminated
safety glazing
RoHS compliant. Withstands heat up to 428℉(220℃)
Color: Green, Material: Polyethylene terephthalate
(PET), Adhesion Type: Silicone. Leaves no residue
after peel away.
Excellent electrical insulation,Resistant to abrasion,
chemicals and temperature
Multi-applications:Primarily used for masking parts
during powder coating,painting, plating,anodizing,
sublimation,general die-cutting applications,etc.
Multiple size value bundle: Including 1/4 inch x 36yds,
1/2 inch x 36yds,3/4 inch x 36yds, 1 inch x 36yds,
Meet your different size requirments. 4 rolls (36 yds per roll)
Peter Lin, cnc@cncGlass.com,
cnc@cncEVA.com
Whatsapp: 0086 15013829504,
WeChat: WeCan365
www.cncglass.com www.cnceva.com
Peter Lin, cnc@cncGlass.com,
cnc@cncEVA.com
Whatsapp: 0086 15013829504,
WeChat: WeCan365
www.cncglass.com www.cnceva.com